UPDATE: Withdraw Paypal Funds To Your Trinidad & Tobago Credit Card
UPDATE 2018! A fresh update for this article is coming soon!
2018 UPDATE! Even with the availability of WIPAY in Trinidad & Tobago now, our local version of PayPal (read the article Move Over PayPal, We Have a Trini Version Now), PayPal continues to dominate in the minds of many as this old article keeps getting reads, comments and questions. Additionally, the number one search query that led visitors to my site in all of 2017 has been some iteration of the keyword 'paypal'.
One reason for the interest is the foreign currency dilemma in T&T and the need to earn USD as it's near impossible to buy USD from local banks. Of the bat, WIPAY is completely out of the question as it only settles in TTD. It's an alternative to PayPal as an affordable, easy to set-up method to accept payments online, but it's a no-can-do in US currency.
In light of this, I'm revisiting this article to give a fresh, current update for 2018. It's been a while since I've tested the whole process, I haven't done it since this article. But right away, you still can't keep USD earned in your PayPal account even if you are successful in transferring to your linked local credit card, as credit card accounts here are denominated in TTD, So if you transfer $100 USD you'll receive the TTD equivalent.
Get notified when I update this article, subscribe via the form at the bottom. If you want to help me do a fresh test, use the PayPal Contribute button also at the end, I'm sure I've provided at least $5 USD worth if info :).
NOTE: As of mid-January 2018 I can't seem to transfer or send money to my Trini PayPal account. I'm getting the message: We can't send your payment right now. If you keep running into this issue, please contact PayPal. If you continue to encounter problems, please contact customer service. I contacted PayPal and awaiting their response.

The Forward Multimedia website is getting a lot of entrances via the keyword 'Paypal' and 'E-Commerce Trinidad & Tobago' and for good reason as we rank at the top levels of Google T&T. I'm sure if Trinis get the clear picture on local online payment we'll see a lot more and hopefully much better e-commerce sites which is what the shopping public wants. I have some updated info regarding Paypal that I'm going to research and test in the coming days.
I have a Paypal account that I set up from right here in Trinidad. I used my credit card obtained from RBC Royal Bank (then RBTT) to link the Paypal account to and that's fine. I use this Paypal to purchase domains, themes, plug-ins and other website related stuff for my clients' sites and it works well no problems.
In my earlier articles I said that Paypal cannot transfer out any funds out to your T&T bank account and that's still true. I can send invoices to clients, get paid but the funds will sit in the account and I won't be able to withdraw the cash. The same goes for if you use your similar Paypal account for an e-commerce website— upon checkout when the customer pays, the funds will remain in Paypal…well I have an update since then…
YOU CAN WITHDRAW FUNDS TO YOUR CREDIT CARD
Paypal specifically states that you can withdraw funds from your account to your linked T&T credit card.  Here is a screenshot of my Paypal account if I click on WITHDRAW on the menu. It indicates a $5 US cost with a processing time of 5-7 business days: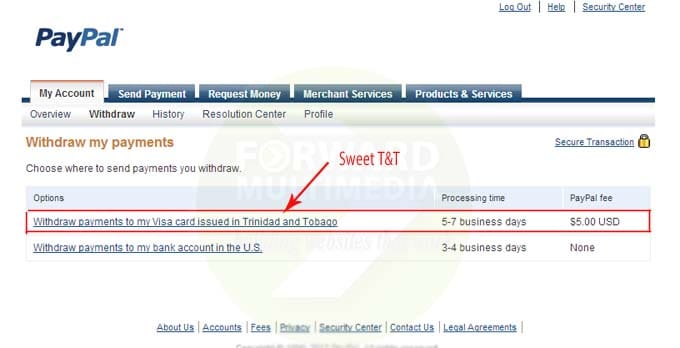 Here is the page after I click on 'Withdraw payments to my Visa card issued in Trinidad & Tobago'. You'll notice a $500 US daily limit: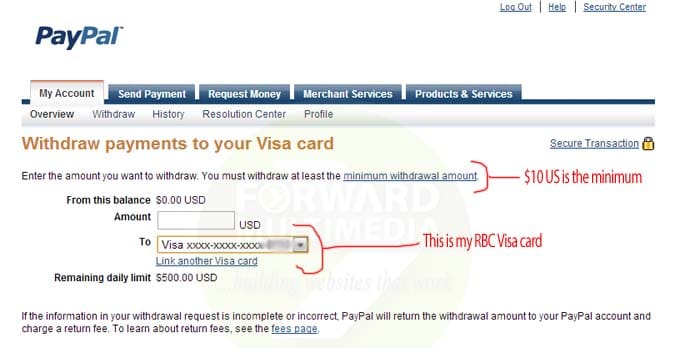 Finally, here is the screenshot of Paypal's official services specifically to Trinidad & Tobago indicating the send, receive and withdraw: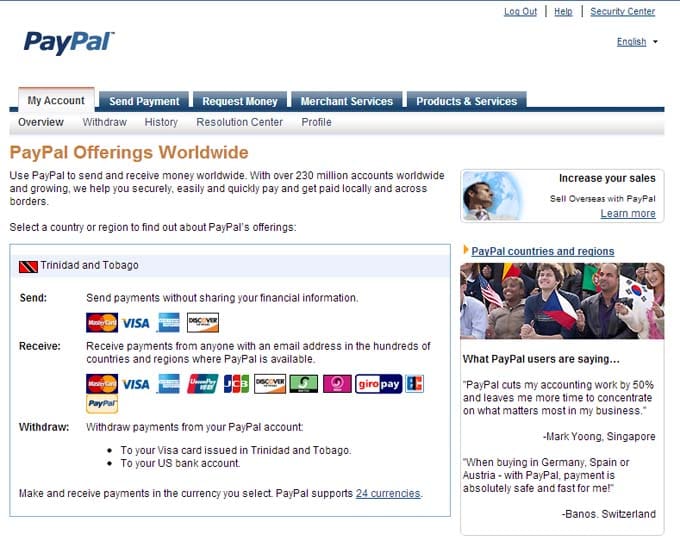 Now I'm in the process of testing how it works in 2018 and you can help me. Below are two (2) PayPal buttons: one linked to my PayPal account linked to a local credit card, i.e. a 'Trini PayPal account', and one linked to my US PayPal account. If this article it worth something to you, you can help me test.
PayPal payment to 'Trini' account linked to local credit card
PayPal payment to US account linked to US Debit Card & Bank
Get notified when this article is updated! Subscribe below
Forward Multimedia's Regular Newsletter provides general news and updates to clients (subscribed automatically) and non-clients who subscribe.


My Exclusive Newsletter provides giving additional insights, tips and info, plus VALUABLE STATISTICS about website usage and online shopping in Trinidad & Tobago that won't be on my site and articles