SEO In Trinidad & Tobago Part 1: Trinis Love To Google
I Google, therefore I am. I've always said that the number one most visited website in Trinidad & Tobago is Facebook. The second most visited is Google T&T. Let me show you the top five right now: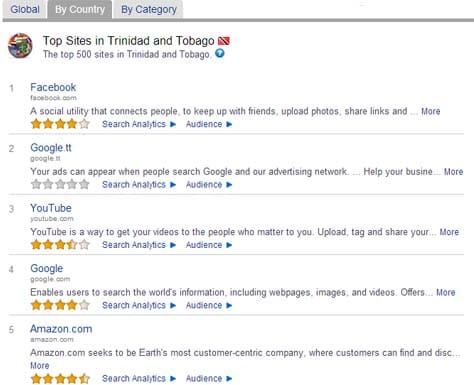 Haven't I been telling you that? We socialize, we search and we shop. You would notice that in 2012 I didn't do too many articles on Search Engine Optimization (SEO) in T&T and for a reason. In 2012 I was applying active SEO techniques to this site and monitoring the results.
The results are that as of 2013 Forward Multimedia is consistently close to the top of Google T&T for the major keywords for local web design: 'website design trinidad', trinidad website design' and 'e-commerce trinidad and tobago'. I fully expect to be at the number one position by the end of the year but only for my ego as I'm telling you right now that the first spot doesn't necessarily mean you're going to get all the customers. Why do I say that? Well that's my first lesson in SEO.
Not that you shouldn't aim for it but think about your own search habits right now, do you click on just the one at the top of the first page or do you click on a few? Thought so. The human thing to do is to check out a few, mostly at top half but almost always just on the first page. What are you looking for? When you click on a site, you're also looking for a site that clicks with you and that site at the very top may not be it. Heavy stuff eh? Let's set the stage for this series shall we:
Fact #1- Search Engine Optimization (SEO) is not widely practiced in T&T
Trini companies have finally wrapped their heads around the concept that a website is now standard as a stapler but they're forgetting the staples, thereby rendering their sites useless for the most part. SEO is not another level or something you come back to after you launch your site, it must be practiced from the get-go. So while I'm happy that T&T businesses are waking up, they're still a bit drowsy. Translation: time is ripe for you.
Fact #2- Most of the top returned results in local search are not by design
In the land of the blind, the one-eyed man is king
It's very rare to see a first page of only websites when you search in Google T&T. More often than not the top 3 are directory listings even for premium keywords that should return a hundred sites. The reason is simple: lack of websites to return and therefore, no competition. Translation: poorly designed/optimized websites can achieve top ranking.
Fact #3- You can get away with a un-optimized website but not for long
Now that Trini businesses are catching up with websites they'll also catch up with optimized sites. A sub-par website may enjoy a good run at the top but will ultimately get bumped off by a more worthy site (hopefully yours). 'Enjoy a good run' is also not necessarily a good thing as it's like an ugly bride in a pretty white dress- when you lift the veil…aargh! So you click the top site and realize it's an 80's design and not updated since 2006. Translation: a top site should always live up to it's ranking.
Fact #4- There are not many local web designers skilled in SEO
Again, the entire industry is now waking up regardless of how long they've been around. The website landscape and it's attendant best practices have grown and evolved to the present version and will continue to do so like all others. Note, I'm not saying that there aren't any, I'm saying that there're not many.
At the top of this article I referred to Forward Multimedia's own SEO and rise up the rankings to a consistent top half appearance for premium keywords.
That was not to impress you but to impress upon you that the proof is in the pudding so to speak and I practice what I preach. Everything I do on my site can be duplicated on yours with exactly the same thought and care and I really mean that. There's no time like the present my friends. Translation: for heaven's sake do really have to translate this one, LOL!