Why I Prefer Magento for E-Commerce in Trinidad & Tobago
E-Commerce, Online Store, Shopping Cart, Online Payment, Add to Cart, Shopping Basket, Checkout— all of these are familiar terms to anyone and everyone who's shopped online.
And to continue singing to the choir, shopping online is the process of visiting a web store, browsing products, adding to cart, then checking out by paying for the order using your credit card right there and then, all while you sip your tea, coffee, water or Bay Rum (but that's none of my business!).
What makes the online shopping process work is the SHOPPING CART feature, and its ability to compile and consolidate products of various types and quantities into a single order and pay for it online.
That's the function at its most basic form. Then there's the additional features like coupons, product bundles, gift cards etc., that we all know and love.
All online shopping cart platforms function exactly alike, i.e. you can browse, add to cart, checkout, pay, and the order confirmation comes immediately to your inbox. Do you know of any other way? If they are all alike, then why are there so many platforms- Magento, Open Cart, osCommerce, ZenCart, Shopify, PrestaShop, VirtueMart?
For the same reason you can buy cars like Toyota, Nissan, Mazda, Audi, BMW, Ford. And you'll also appreciate that all these car manufacturers hold their own and are top notch and solid in their own right. Same can be said for the shopping carts I mentioned above.
Personally I'm a Toyota guy, but like everyone else I have my own preference for reasons both real and imagined. Bottom line, any shopping cart would work for you just like the thousands of cars moving Trinis around the country every day. However, I prefer to work with Magento.
What I used before I switched to Magento
Before I started promoting Magento, there were two other shopping cart platforms I offered my clients.
Big Commerce Hosted Shopping Cart
This is one of the top shopping carts in the world. What 'hosted' means, is that they charge a monthly subscription for their 'all inclusive' service. I liked this system because it was easy for the client to use, plus support was provided by Big Commerce 24/7. This shifted a lot of headache from my head to theirs. If anything broke or wasn't working then they had to fix it because my client was paying for the solution.
I stopped using Big Commerce though, and no longer offer it for one reason which I'll explain below. I also transitioned two clients, TnT Bamboo Online and PC Clinic away from it to Magento a few months ago.
WordPress with Shopping Cart Plug-in
The WordPress content management system (CMS) is not an e-commerce platform at all (it's a blogging platform), but can be made to work like one via many e-commerce plug-ins (the top plug-in is called Woo Commerce), which can be seamlessly attached to achieve not only the basic shopping cart function, but many other bells and whistles like the others.
In fact, it's not unusual to have large stores with thousands of products running on the WordPress platform and doing a fine job without issues. And get this— it works so well that WordPress with the Woo Commerce plug-in is more popular than the all the other e-commerce platforms built for e-commerce (except Magento).
What changed my approach to E-Commerce platforms
I was forced to view from a different perspective for three reasons; the second one as a result of the first, the third as a result of the first two.
1. The local payment gateway became available
The gateway provider, First Atlantic Commerce (FAC) of Bermuda, and their Trinidad partner First Citizens Bank (FCB) finally brought to us a TT Dollar payment gateway, thus removing the single, most critical barrier to bona fide e-commerce in the country in one fell swoop. Gone was having to work around the limitations of Paypal and other US based third party processors.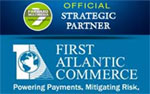 Please note that Forward Multimedia is an official Strategic Partner with First Atlantic Commerce and I work closely with them and FCB's Electronic Banking Unit to ensure a smooth gateway integration process.
2. Not all platforms support the local payment gateway
Unfortunately, hosted shopping carts like Big Commerce are 'closed source' proprietary software owned by the company, the FAC gateway is not among the default payment gateways supported.
What it means by a 'supported gateway' is that the shopping cart is pre-configured to work with the particular gateway so all that has to be done to use it is to simply enable via a single click to 'on' in the back-end.
By 'closed source', there is no access for a developer to manually code it in because Big Commerce doesn't allow it, nor do other similar hosted shopping carts.
This rules out using any hosted shopping cart with the FAC payment gateway and the reason why I migrated my Big Commerce clients to Magento.
3. Looking at future e-commerce development in Trinidad & Tobago
I'm not looking for credit because history will judge, but I see myself and Forward Multimedia as a pioneer in local e-commerce because I've been in the trenches trying to make it work and championing the cause.
My re-evaluation of platforms had to be made because of the first two points in the best interest of e-commerce in Trinidad & Tobago AND my clients, in the long term.
Why I chose Magento
I chose Magento because it is the number one e-commerce platform in the world with more than a quarter of the world's online stores using it. The second placed platform (Woo Commerce) is less than 10%. So it's not only strong, it's kicking the asses of the other platforms and then some.
It's robust but still suited for T&T business
There is a steep learning curve (even for me) as its back-end is not as user friendly as WordPress. And it's not only for big businesses as some might like you to believe.
I use the Community Edition (CE) as it's obviously the more appropriate option. It's also more appropriate as the Enterprise Edition is around $15K USD per year for a license. The Community Edition on the other hand, is FREE.
It's Open Source so FAC Gateway can be integrated
Note that FAC's gateway can be integrated with ANY open source platforms by virtue of their being 'open'. It follows that the First Atlantic Commerce (FAC) payment gateway can be integrated with Magento. Of course I'm not guessing, I've already done it with The London Clothing Company and Office Are Us.
It implies HARDCORE E-Commerce
I say it separates the 'trying a tingers' from the 'going brave'. If the price scares you and you don't want to drop $30K plus on your online store because it's too risky then maybe online business is not for you.
WordPress as a platform is 'conservative'
In the world scale of online shopping ALL e-commerce stores in Trinidad & Tobago would be categorized as small. I get that HARDCORE may not be the mindset of everyone (and 'trying a ting' too) and some would prefer the local payment gateway as a nice convenience for their customers, perhaps in a niche industry, similar to what they would get from say, Paypal.
I'm all for that, and being that WordPress is also open source, technically, the FAC gateway CAN be integrated. However, my developer had initial qualms about such integration in terms of long term reliability so I don't offer it (except with Paypal and 2Checkout, i.e. no FAC), BUT I'm revisiting it with my developer right now to find a way so I can offer a more affordable option for local e-commerce with FAC.
Limitations of the Magento Community Edition (CE)
It may be useful to mention that Magento had its own hosted shopping cart since 2011 called Magento Go, but it was discontinued in mid 2014 with full shutdown in February 2015 (because existing stores are still transitioning).
There is no technical support for CE
Magento does not provide support for the free (CE) version (how can you expect support if it's free?). However there is community support via other experienced users. But for truly expert support, there are Magento Certified Developers, i.e. certified by Magento itself.
I rely on these experts for support and customizations and I've partnered with two India based companies as part of my strategic plan. Why India? You really have to ask?
Not many local web designers with Magento experience
To any T&T based web designer, including myself, Magento is new territory because e-commerce is new territory in Trinidad & Tobago. No web company would have (and could have) experience using it.
With four live Magento stores in the Forward Multimedia portfolio, and a fifth coming soon, I'm probably the only website company in T&T to have this many.
Conclusion
The good thing is that there are always experts for the stuff that you don't know about. You can't fix your computer yourself or even your fridge or car— you still have to call the technician or mechanic. For most aspects of your business you call in an expert: electrical, plumbing, air conditioning, point of sale, networks, it's been the system all along.
GO BRAVE or go in your hammock is what I say!