Video Production for your You Tube Channel
The simplest video clip can be made interesting and compelling to feature on your site and You Tube.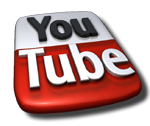 You Tube videos are also not widely used in Trinidad & Tobago as part of an online marketing plan. It's not absolutely necessary to use videos and not having one will definitely not hurt you but in terms of marketing, every little bit helps and it's nice to have some variety for when your visitors browse.
One reason why you don't see many is that local video production is expensive; running into thousands of dollars for professionally shot and edited videos, so some use their own camcorder resulting in something very amateur-looking.
Forward Multimedia has recently started to offer a more affordable solution with short videos starting at just $800 TT
.
VIDEO EDITING FOR YOU TUBE
For the very least you need your video to be a bite-sized, interesting clip with the professional touches- titles, transitions, credits. Take a look at what we've done.
Our Own Video
CLIENT: Novel Sports