Doom & Gloom, Hoping for Boom— T&T E-Commerce Before and After Budget
With the dreaded budget day 2016 getting very close, Trinis expect and will get the worst news, and no telling how this will impact E-Commerce investment and related activity as I really can't call it now. Immediately what comes to mind is the online shopping tax proposed last year and whether it will rear its head again especially as we approach the shopping season.
The other concern is how the budget, even without any mention of online tax, will impact E-Commerce in Trinidad & Tobago, which, is still showing signs of life despite the poor economic conditions and outlook.
Online Shopping Tax is a possibility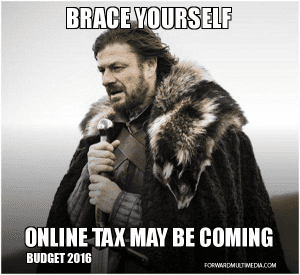 In 2015 this four letter word began being tossed around in order to punish, er… protect specific economic interests in the country. I wrote about it back then with a detailed article arguing against it. I was against it then and I'm still against it now. You can read or re-read the article here.
In 2016, all indicators point to world energy prices remaining in the basement (surprise!), i.e. oil and gas prices will continue in the present slump and our economy is going to remain weak. Our government's performance will also continue in its present slump and their ideas are going to remain weak, creating a lose-lose scenario.
Let me rant a bit here; I have no confidence in this government, or any other T&T government, I don't care PNM, UNC, COP, ILP, all the same ASS. If after independence with all the oil, gas , pitch, and being surrounded by water, we still can't have good roads, infrastructure and steady water supply on and island speck that's the size of a municipality, then it will be very naive of me to think it's going to be any different in the future.
So on the revenue side, it is possible that the tax on internet purchases may be taken a step beyond the idea to more serious consideration, ultimately of course, with its materialization.
Tax on foreign online shopping only?
It wasn't clear in the original proposal but being that the purpose was to protect local business, I assume it would be only for foreign purchases. There was no mention of local online shopping, perhaps because it was so negligible at the time (and still is).
It MAY be an option to put on the table in my opinion but not right now. Taxing online shopping on US sites penalizes the customer and creates no incentive for local online merchants to up their standard. I say this because all my experiences with local business owners who claim to accept that online is the future, don't have me convinced that they are prepared for the work it entails. This I've witnessed firsthand.
Local E-Commerce still very much alive
I may not be sure about the online tax, but I can say for sure that the established medium to large companies in Trinidad (I can't say for Tobago)— they are seriously considering the E-Commerce move to be competitive, for one, and two— there is absolutely no debate that the Millennials of T&T are the market of their future and now is the time to put things in place.
There is no time like the present for E-Commerce
As long as you have existing inventory and not starting from scratch, the cost of an online store is entirely within reach with an investment anywhere between TTD $50K-$100K for what I call 'hardcore E-Commerce' using the robust Magento platform. Those figures may seem like a lot, but for medium to large companies, you regularly write cheques like these for goods and services.
For a 'medium-core E-Commerce' I recommend the WordPress platform for smaller businesses and entrepreneurs who have just a small catalog of products. Such a store will be in the vicinity minimum $25K-$35K.
For softcore E-commerce, well, you have PayPal, bank deposits, US based processors, but this is really 'trying a ting' e-commerce and I don't recommend it. There are platforms like hosted shopping carts that charge a monthly subscription as low as $30 USD per month making it absolutely possible to have an online store up and running for less than $500 TTD without ever needing a web designer.
Unfortunately, without expert input, the chances of setting up an online store that works on your own are very small.
E-Commerce Chess Board mobilizing as we speak
There has been a quiet buzz, if there is such a thing, and I equate the buzz to pieces moving on the E-Commerce Chess Board in T&T. Amazon stores are being quietly developed (I have one such project right now), my competitors are more in the game now (I've no doubt taught them a lot). The good news for you and me is that not everyone can play chess and there is still plenty room on the board.
I think that people are making their move without realizing that they are on the board, i.e. not many are viewing it strategically where moves are surgical, instead they're viewing it competitively so the moves seem casual. The tiny percentage who can really see this thing for what it is and what it's going to be in the next five to ten years, well, they're really going to be the ones yelling CHECKMATE!.
Doom & Gloom or Boom?
That was just a headline, slightly click-baity I'll admit. Despite what I said in my intro, there will definitely be no boom in the E-Commerce area and that's for damn sure. I personally have no confidence in our present government as the only boom they've managed to oversee is that of the murder rate which continues unabated to this day. Now that kidnapping has reared its head this past week, I'm sure they're 'deeply saddened' by and are 'looking' into. It's safe to say that your and my lot in life are not in their minds and will never be.
Pre & Post Budget- Online Shopping
Trinis are watching their spending no doubt as the price of food and other goods rise due to both the weakening dollar, the introduction of VAT on many previously zero rated items, removal of the fuel subsidy, and overall uncertainty. Trinis are definitely doing less online shopping on US sites as I've heard from solid sources that the number of containers shipping out of Miami to Trinidad has fallen dramatically over the past year.
Be that as it may, it doesn't really affect local online shopping locally at all as it never did as there are no online shops in T&T to talk about anyway.
Pre & Post Budget- Online Selling
On the other hand, you'll find the deep-pocketed conglomerates and larger companies in T&T going about business as usual as you all know the golden rule- who has the gold makes the rules. There'll be no boom post budget but that's not to say that the local E-Commerce momentum isn't going to continue along its merry way, just as it has been all along, taking it's cool Trini time the way Trini's do.
Conclusion
Poke-a-poke is the way it will go as it has been which is fine for me as I won't be able to handle a real boom as thankfully I have enough work I can handle at the moment. Also despite my earlier hints of growing bigger, I've finally decided and it is ABSOLUTELY FINAL that I'll remain the small operation like I've been for the past five years and will take on only the projects I can handle.