Write content and let it be the RIGHT content
Compelling and persuasive copy leads to greater conversion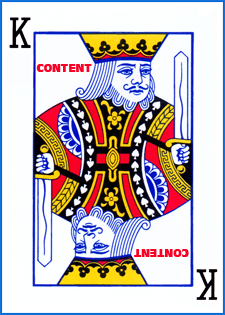 This may sound so cliché now but 'CONTENT IS KING', it really is. Lest you forget why you have a website in the first place, it's to provide the info your prospective customers are looking for and NEED so they will become customers. The word for this is CONVERSION. If they don't find the right info on your site or it's presented poorly or unclearly then you lose that prospect to your competitor and face it, inbound traffic is already hard enough to come by.
Website content writing aims at two things i.e., relevance and searchability. Relevance means that what's written should be useful and beneficial to your reader. Searchability deals with usage of keywords to help you get found by search engines.
A critical failure of Trini businesses is especially in the area of content as such content requires skillful writing especially for the web.  As a business owner you need this type of service for two reasons:
Content that would entice and engage visitors, so they stay browsing in your website. This operates on the premise that visitors who stay longer surfing a particular site (which offer some sort of product/service) will eventually become clients/ customers.
Content that is keyword smart, meaning composition must contain relevant keywords/phrases (typed by users for searching) associated with the actual site for better Search Engine indexing and ranking.
Additionally, user readability; usability; together with being up-to-date so that the company represented in the site conveys a sense of awareness on what is current and new to the industry in which they are operating are important aspects of quality web content.
Makes sense? Then see next panel—->